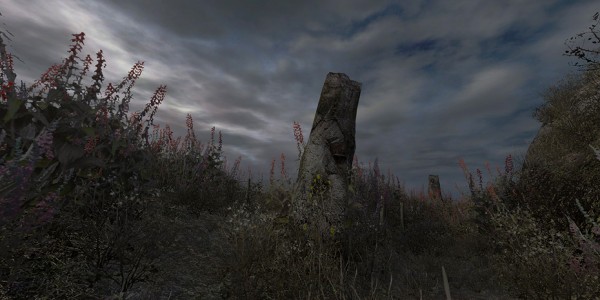 After scoring a drink and some cookies, I sat comfortably to watch someone play Dear Esther, lauded for its environmental beauty and enthralling story. Unbeknownst to me, that's all the game was — a man traversing an island landscape searching for answers. No action, no explosions, just a simple tale of a wife's passing and how her husband chose to cope. And then for one second, one remarkable moment, I found myself bewildered. My understanding of what a game was rendered useless by an hour.
Only a voice-over melded with eye-popping visuals and a compelling tale, and nothing more. It was refreshing and instantly calming. It resonated and imprinted an awkward sense of emotion into my conscious… something rarely felt through all the brutality of today's games.
The man's journey an extended metaphor to him finding his purpose, answers. Answers of his wife's passing; why this happened and why it happened to him. His demoralizing story remarks on the car accident that killed his wife, when the brakes shorted, and his lackadaisical response. Almost blaming himself — a natural human response — for not doing more. Then his narration enters deeper into delirium, referencing Jakobson, a shepherd, and Donnelly, a man who mapped the island. A radio tower seen vividly throughout the game becomes the pinnacle of his story, of which he climbs and jumps, only to transform into a bird, symbolizing freedom.
Dear Esther played like an Oscar-caliber film, if anything. The only deterrent of that title is it being a Steam release, thus labeled a 'game'. But the definition of video game should be applied loosely these days. Even after three hours I'm still finding it remarkably challenging to define Esther of the same kin as, let's say, Borderlands.
More impressively, the soundtrack adds to the experience wonderfully and preps you for what are incorrectly assumed as tender moments. It's like each song was specifically chosen for each individual second to push events forward, a notable impossibility for modern developers.
Ultimately, this intelligible story made me question if the constant, inescapable combat of video games today is virulent to our attempts at creating a digital art form. The blood-pumping, heart-stopping action of first-person shooters is a definitive example of trying too hard for pure entertainment value, while just an hour with Esther leaves more of a gratifying and indelible afterthought. Like I sympathize with this man's grief and heartache where if my character falls in the line of duty in Battlefield 3 I move on unconsciously.
Dear Esther plays out one man's horrific, relatable, unfathomable tragedy and speaks volumes to those who've lost ones. And it fuels my faith that storytelling isn't lost forever in a haze of bullets.
If you like this post, please share it below. As well, subscribe via RSS feed above or in the sidebar.
Holygrenade on Twitter

Topics

Archives

© 2014 Holygrenade. All images are copyrighted by their respective owners.